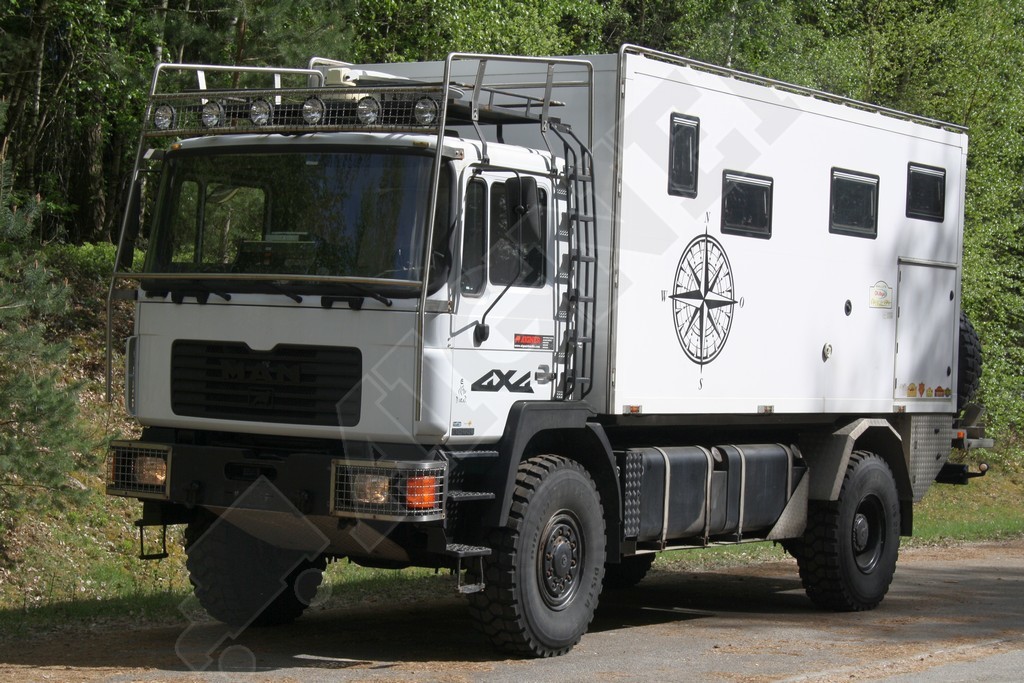 Sale on behalf of customers
Valuation report available (replacement value incl. VAT: EUR 282.030,–)
Equipment details according to expert opinion:
Equipment chassis
Exhaust system made VA, reinforced leaf springs in front, roof hatch driver's cab, radio system VDO, 3x fuel tank, incl accessories, conversions and appropriate adjustments, 2 reversing lights, emergency stop switch in the cab, electric for additional remote lights on the cab,, roof rack on the driver's cab, step ladder behind driver's cab, headlight grille in front, bonding driver's cab, side mirror right, Trittleister in VA version, folding and retractable, steel bumper in front, outside mirrors heatable, elek. power windows, automatic seat belts, front and rear stabilizer, speed limiter, headlights H4 version, trailer hitch maneuvering hitch KU 602, towing capacity 25 tons, hydrosteering, steering gear ZF, tire inflation connection, front steering version, water cooler, intercooler, adjustable steering wheel, snap ring rims, tachograph, driver comfort seat Grammer, fine dust and pollen filter, front and rear axle ventilation raised, reinforced front tow coupling, cab tipping pump reinforced, conversion exhaust system, modification AHK, brackets for storage boxes prepare, Org. Wiring harness reattach and relocate, conversion rear lighting, conversion AHK socket, powder coating snap ring steel rims, conversion rear underride protection, roof rack preparation for galvanizing, painting effort tank and holder, underlay iron,underride protection, underbody protection incl. of all materials, Various additional work, Painting effort for cab and frame with rust removal, 2 E-wheel rims in addition.
Equipment expedition camper
Sticker, fresh and waste water tanks, fresh water 600 liters, waste water 300 liters, toilet tank 150 liters, rear garage with flaps left and right, charger Filton Futur 12V and 24V, inverter Clayton G3 220V, solar regulator Votronic, kitchen block with 3 gas hob, oven, compressor refrigerator Kissmann, sink, wall cabinets, double bed in the rear of the vehicle in cabin style, Medi Komfort mattresses, Froli-Star bed system, overhead cabinets in the cabin, seating area with retractable table, bench seats as storage compartments, flat TV, radio system with CD, passage into the driver's cabin, shower cabin with deep shower tray, water heater in the shower, water heater in the living area, tall cabinet, washroom complete with washbasin and chopper
WC, hot water heating and control Aide Compact 3010, water filter heated Separ, 100 liter gas tank with remote control, level indicator gas tank, 3 x SolarGel battery 210 Ah, satellite system Oyster, rear lift for motorcycle and 2 spare wheels,, rear view camera, solar panels and solar system 280WP,, rear fenders in checker aluminum plate design,, additional containers in checker plate left and right at the rear of the vehicle,, sand plates,, snow chains,, carpentry work, technical installation living cabin approx. 1.500 working hours, Living cabin Fehntjer with subframe, subframe 3 point mounted, storage boxes under living cabin as wheelhouse of HA.